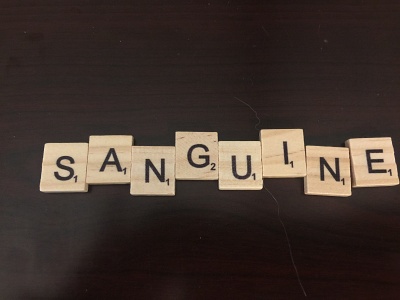 But God will never forget the needy; the hope of the afflicted will never perish. Psalm 9:18.NIV
This year, I took a journey with my one word for the year - Sanguine.
I started the year with my depression improved, but I was still struggling. I still didn't have a stable foundation for my mental health. In choosing Sanguine, I hoped my year would be infused with hopefulness.
Of course, the transformation did not happened overnight. But, slowly there was a sliver more hope each week. With the holidays, starting in November, I've had fewer treatments, but without my normal signals of the depression returning. I'm claiming I've gained confident optimism. I'm not completely back, but my foundation is growing stronger.
And last month, my therapist recommend a slight change. This change has improved anxiety issues for some people. This is what I am missing. We are trying it Tuesday. Here is hoping this is starting the new year moving to even more health.
(Coming next week, my one word for 2022!)
How will you sum up your 2021?
Respond to this email, or on my facebook page. I would appreciate if you encourage your friends to signup for my newsletter.
Be safe.
Lyndie Blevins
A Summary of the last week on The Sage Record
My columns from Sage's Newspaper, The Sage Record from the last week
The Sage Record
Lyndie Blevins blogging from Sage-Texas where you can expect greater things to come
December, 2021
Seeking Sage Newsletter - Love - Fourth Week of Advent
Book Review - The Secret Life of Bats
Some reference books I'm collecting on owls and bats
Book Review - Bright Evening Star