The Sage Record
Lyndie Blevins blogging from Sage-Texas where you can expect greater things to come
Turns out the work of the cross isn't easy
Every March my church has an auction as a fund raiser. I've always wanted to create an original fabric art piece for it, but never had time. This year I was determined to submit something.
I came up with what I thought was a simple idea for a picture of a cross. The original idea was to sew sins patchwork style and 'nail' them to the cross with 2 french knots. Then I could add the 3 nail holes and pretty much be done.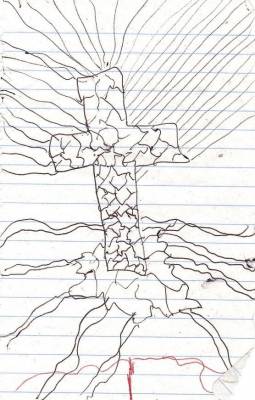 Once I actually started, it didn't quite work out the way I thought. In BSF, we were beginning to study Isaiah's prophecies of the Messiah. These passages would not let me take an easy way out of showing the work of the cross. The phrase 'Sorrow and love flow mingled down' from When I Surveyed The Wondrous Cross kept crossing my mind.
I added the blood and water flowing between the sins. But the fabric wasn't enough, I used a running stitch to outline the blood and water. There were times I felt the pain as I stitched
I spent a three and a half solid weeks on the cross alone. The week of the auction, my Mom said she wanted to bid on my work. It was such a relief. I didn't believe I could finish it on time, and I was really sick.
We made a donation and I have more time to work on it. I'm glad, I know there is so much more to do. This is a work in progress. I've learned a lot from this project, but nothing more important than there is nothing easy about work on the cross.
Location (Map)
Stay Informed
When you subscribe to the blog, we will send you an e-mail when there are new updates on the site so you wouldn't miss them.