The Sage Record
Lyndie Blevins blogging from Sage-Texas where you can expect greater things to come
Seeking Sage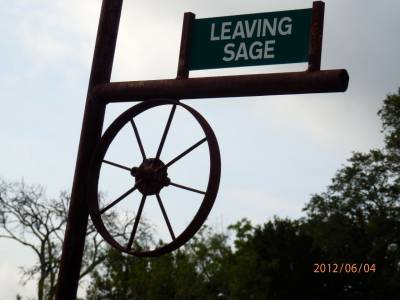 Last week I went on a trip seeking Sage.
In the process of building my platform, my vision of Sage, Texas began was conceived. When my first couple of internet searches came back empty, I let Sage develop. Then, the worst happened, a search came back with a real Sage. The post office was established in 1874, but the railroad bypassed Sage and the community disbanded. By 1980, all evidences of Sage had disappeared from maps.
Sage was 8 miles northeast of Burnet, Texas on the North Fork of the San Gabriel River at the corner of County Road 202 and 203. Now there is one sign with 'Sage City Limits' on one side and 'Leaving Sage' on the other side.
That was the information I had to work with last week. County Roads don't show up on the Rand McNally Atlas for Texas. While they do show up on my iPad, I have not conquered driving and navigating with it.
After filling the car, I popped into the connecting convenience store. When I asked the clerk if they had maps, she was so kind.
I stood there for a few seconds considering if I could ask for directions for somewhere more imaginary than real.
No, but thanks. I think I know where I going.
County road 202 is one lane, but it is at least black topped. I cross over two cattle guards and through a herd of goats who were grazing across the road.The Sage city limits sign is about 400 feet south of the intersection of County roads 202 and 203.
I drove up and dow both roads and took lots of photos of the landscape.
And aren't we all seeking a place of comfort and wisdom?
Location (Map)
Stay Informed
When you subscribe to the blog, we will send you an e-mail when there are new updates on the site so you wouldn't miss them.