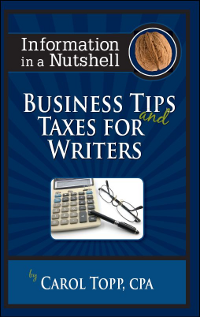 Book Title Business Tips and Taxes For Writers
Book Author Carol Topp, CPA
Publisher Media Angels
Pub. Year 2012
Pages 127
Genre Non-Fiction, Business, Writing
My Rating ♥♥♥♥

Ease of Read Straight forward
ISBN 978-1-931941-22-8
I was attracted to this book because...
In building my writing/publishing business, I am interested in all the information on the business side I can get. This book was recommended on an author website/blog. Unfortunately, I'm not sure which one.

This book was about
The basic business aspects of creating your writing/publishing business. It discusses the difference between a hobby or a business. There is a through chapter of how to approach the business as a charity. It also discusses in detail the following: Sole Proprietorship, partnerships, corporations, Limited Liability Companies, LLC, types of business that are always mentioned when discusses the business of writing.
There are also chapters on financial planning, organizing business records, bookkeeping, software, inventory, sales tax, income tax and working with an accountant. She also includes a section on advice, often made mistakes and resources for writers.
Things I liked about this book
This book is a great overview of the business, definitions of terms and quick examples of bookkeeping. While it was a good place to start, I think I was hoping it was a tiny accountant that would pop out of the covers and put my records in order.
Why you should read this book
If you have been confused at a conference by people talking about LLC or Limited Partnerships, this is the book for you. It also is a great reference for taking care of sales tax and all the other details of bookkeeping.
This book lived up to the back cover copy...
This book does fulfill the promises on the back cover. It is a quick and handy guideline of essential tips for business authors.




Contact Carol Topp