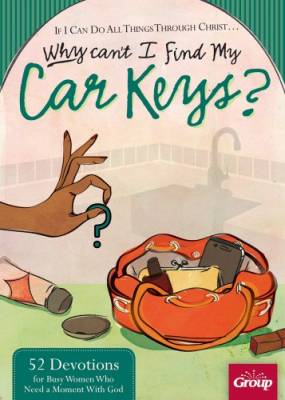 Book Title If I Can Do All Things Through Christ... Why Can't I Find My Car Keys?
Book Author anthology
Publisher Group
Pub. Year 2012
Pages 144
Genre Devotional, Christian Life
My Rating ♥♥♥
Ease of Read Very Easy
ISBN 978-0-7644-8849-8
I was attracted to this book because...
Actually, I ran across it by accident, (a bad link). But the title is not only catches your attention, it is something I have mumbled to myself more than once in my life.
This book was about...
52 devotionals designed for women on the go. It also contain practical ideas on how to spend more time with God and things to do with girlfriends.
Things I liked about this book...
The personal stories were interesting and relatable. The life lessons were helpful and inspiring to understand how God was working in my life. I have been able to use some of the suggestions on my church's women's ministry facebook page.
Why you should read this book...
This is a wonderful devotional book for busy women looking for ways to have more fun and reflection time in their lives. This would also be a thoughtful gift for a friend.
This book lived up to the back cover copy
The devotionals reflected the information on the back cover.