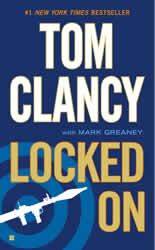 Book Title Locked On
Book Author Tom Clancy
Publisher Putnam
Pub. Year 2011
Pages 853
Genre Fiction
My Rating ♥♥♥♥♥
Ease of Read Easy to read, but long
ISBN 978-0-299-15741-8

I was attracted to this book because...
Tom Clancy wrote, and it has all of my favorite Clancy characters, Jack Ryan, Sr., Jack Ryan, Jr., John Clarke, and Ding Chavez.
This book was about...
The continuing saga of the lives of Clancy's favorite subjects. Jack Sr, is reluctantly campaigning for re-election as President of the United States. Jack, Jr, is continuing to hone his skills as intelligence field operator. A devout enemy of Jack Sr, launches a privately funded vendetta to discredit him by connecting the presidential candidate to a mysterious killing in the past by John Clark. All the time, there is a new threat emerging from the Middle East which Jack Jr and his associates at the Campus work to resolve.
For a political thriller it has a touch of all the essentials, breakneck speed action, a touch of romance, and a hard look at the consequences that come from our past actions.
Things I liked about this book...
It is a Clancy book. It provided the thrills and thought provoking action I've come to crave. John Clark is one of my favorite characters. I was in as much pain as his family and friends were as he walked through the darker pages of this book.
Why you should read this book...
To be reminded there are men (and women) who will stand and fight on both sides of good and evil. We always need to vigilant against evil on all fronts, as the 'enemy within may be even more devastating than the enemy without.' It is also a great life lesson for the future consequences on ourselves and loves from our past actions.
This book lived up to the back cover copy...
The back cover is a full-colored photo of Tom Clancy and that is what you get in the book. Tom Clancy's tried and true formula
for reading adventure.



Contact Tom Clancy
www.facebook.com/tomclancyauthor