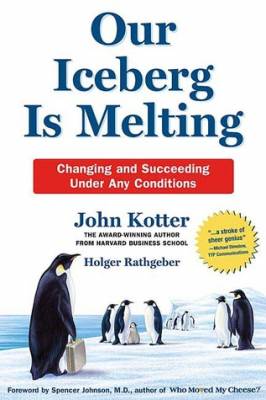 Book Title Our Iceberg Is Melting
Book Author John Kotter, Holger Rathgeber and 2 others
Publisher St. Martin's Press / Macmillan
Pub. Year 2006
Pages 146
Genre Management & Leadership
My Rating 5 Stars
Ease of Read Easy
ISBN 978-02300-1685-9
I was attracted to this book because...
I'm researching leading with a sense of urgency and I have been reading a lot of John Kotter. I was intrigued by the fable concept.
This book was about
One penguin releases the iceberg they are living on is melting. This is the story of how he gets others involved to discover what they should do as a group to avoid disaster.
Things I liked about this book
As a fable, it tells a gr
eat story of these penguins,coming together and finding a way to reasonably work and find a solution to their community's impending problem.
Why you should read this book
This book is a great encouragement that if we listen to each other and find ways to work together, we can solve many problems in community.
This book lived up to the back cover copy
The fable is a great illustration of how problems can be identified, tackled and solved by working together.
If you enjoyed Who Moved My Cheese? you will enjoy this story, too.
John Kotter has been on the faculty at Harvard Business School since 1972. He is the author of eleven award-winning titles and frequently gives speeches and seminars at Harvard and around the world. He lives in Cambridge, Massachusetts. Holger Rathgeber spent his early p
rofessional career in Asia. He has worked in industry since the early 1990's and is now with one of the leading medical technology companies, Bectom Dickinson. Raised in Frankfurt, Germany, Rathgeber currently resides in White Plains, New York.