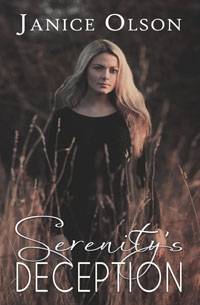 Book Title Serenty's Deception
Book Author Janice Olson
Publisher Lyndon Publishing
Pub. Year October 24, 2012
Pages 362
Genre Romantic Suspense
My Rating 5 Stars
Ease of Read Easy
ISBN 978-0-9764915-1-4
I was attracted to this book because...
I like the dichotomy of the title. It drew me to open the book and find out about the deception, was Serenity a person or a place? Intrigue from the start.
This book was about
After creating a successful career in photography in Galveston, BJ Spenser is unexpectedly called back to Serenity, her hometown for the reading of the will of Madelyne Rose Loveless O'Connell. Having grown up in Serenity as an orphan, BJ has no idea why she is included in this will reading, but her curiosity is triggered. She returns to face bad memories for the people and the place. Her problems escalate when she and her ex-boyfriend are named as the beneficiaries of Mrs. O'Connell's considerable estate if they fulfill some rigid requirements which will require them to overcome the past. The tension and conflict grow as unknown forces work to prevent their success from the moment they leave the lawyer's office.
Things I liked about this book
Tension and conflict abound in the personal relationships of the characters as they work to be resolve the challenge the will's requirements and implementations for the rest of their lives.
Why you should read this book
This is a story of the hope of a wonderful life we all long is worked. It is a reminder of the difficulties and potentials that come with a second chance at happiness.
This book lived up to the back cover copy
My favorite sentences from the back cover copy are
"Plagued with misgivings, BJ questions whether love can be found in a town filled with lies and deception. And can she forgive someone even when they are asking from the grave?"
Serenity's Deception tells of BJ's opportunities to find love in spite of the deception and forgiveness for the past.
Serenity's Deception is Janice Olson's debut novel. It is the first novel in a series for the Texas Sorority Sisters. The four novels are now available. Contact Janice Olson.