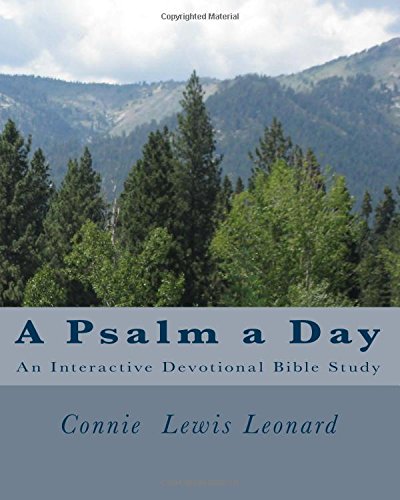 Book Title A Psalm A Day - An Interactive Devotional Bible Study
Book Author Connie Lewis Leonard
Publisher GarCon Publishing
Pub. Year 2015
Genre Christian Bible Study/Devotional
My Rating 4 Stars
Ease of Read Very Easy
ISBN 13:978-1511674744
I was attracted to this book because...
I have known Connie for several years and I was eager to read this study/devotional because it is very transparent in the words Connie shares. I love the book of Psalm and it is always good to find new ways of looking at these familiar verses.
This book was about
A daily study taking verses from a chapter of Psalm using scriptural references and thoughts mixed with Connie's testimony of how these verses have impacted her life. She has also found hymns that relate them to the verses which add great meaning to the study. At the end of each entry;s study are thought questions and statements for the reader to consider and empty lines to record their own answers and reflections.
Things I liked about this book
I looked forward to seeing Connie's own reflections on the verses in addition to the research she has done on the scripture. It was rewarding to be reminded or introduced to the hymns she chose to highlight each day's studied.
The book is in the format of a workbook, which works well for Bible studies. For me, at this time in my life, I seem to prefer small size books. This book also does not have page numbers. I didn't think it would matter at first, but I really missed not being able to see the progress I was making and how far it was to the end.
Why you should read this book
There is nothing more refreshing than to dig into the verses in the book of Psalm to restore your faith and soul.
This book lived up to the back cover copy
As suggested on the back cover, you will discover the human emotions of the book of Psalms as you travel the valleys and mountain tops of life.